Share on Social Media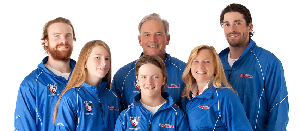 Gudbranson Celebrity Classic
On Monday, June 19, 2017, we will be playing the 4th Annual Gudbranson Celebrity Classic presented by Gavin Management Group at The Marshes Golf Club in support of Canadian Blood Services. In our first three years, thanks to the support of our sponsors, teams and celebrity players we have raised $120,000 to support this important cause.
Canadian Blood Services is a registered Canadian Charity that helps Canadian patients when they need it most.
Gudbranson Family Story
Why are we doing this? In 2004, my brother Dennis – at the young age of six – was diagnosed with acute myeloid leukemia (AML). Though chemotherapy forced the cancer into remission, it soon returned and he was in a battle for his life. After months of waiting and with only a one in 40,000 chance of finding a stem cell donor match, we learned of an adult match that would save my brother's life. Dennis has been in remission for nearly ten years; in fact after five years in remission, he's now considered to be cured.
On behalf of our family and the Canadian Blood Services team, thank you so much for your support.
View More

Achievements
No Badges Have Been Earned
Team Honour Roll
Scott and Michael Hunter
$100