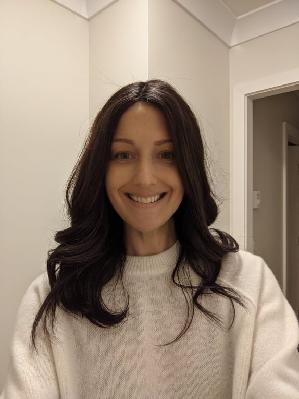 Thanks for joining me.
I am championing this campaign to raise funds in support of Canadian Blood Services. Your support will play an integral role in connecting patients with lifesaving blood and blood products where and when they need them. As you know, I wouldn't be where I am today without the selfless donations of donors. I'm ready to share a glimpse into my journey and here it is below. Again, thanks for being here.
The big 'C' word. I never thought it would happen to me. I was in my prime. I took care of myself. I had a loving supportive family. My career was blossoming. Everything was going right and life was glorious. But, in the blink of an eye it did happen. And it happened to me. All it took was a five minute phone call and three words to change my life forever.
This journey was and continues to be a very personal and raw time in my life. Once diagnosed I didn't want anyone to know. I feared judgment. I feared pity. I feared death. Why now. Why me. This wasn't supposed to happen. It wasn't part of the plan.
August 2020 I was diagnosed with acute myeloid leukemia, an aggressive type of blood cancer. This dis-ease has put me in and out of hospital for the last half of 2020 and first quarter of 2021. It has put me through four cycles of intense chemotherapy, some of which was administered 24 hrs a day, required the surgical insertion of a central line to my chest. I have participated in clinical trials, have had over 60 blood and platelet transfusions, 9 bone marrow biopsies, 1 epidermal biopsy, 1 bronchoscopy, countless IV's and require ongoing bloodwork, which is sometimes daily. I have been on several cocktails of pharmaceutical drugs and underwent an allogenic stem cell transplant in February 2021.
This journey has changed me, it's changed my family and those nearest and dearest to me. I never wanted this to happen however now can't imagine having gone through life without it. I continue to be challenged by this dis-ease and after a very heart breaking relapse in April 2021, I continue down the road of healing.
Cancer has taught me a lot about myself. My strength. My power. It's taught me to love myself and to be kind to myself. It's opened my heart. It's opened my mind. And it's opened my spirit. I continue to learn and grow and write chapters in the book of Life.
Over the course of the last 18 months and for the foreseeable future, I have relied on blood products from donors to help get me through treatment, to see the next day, the next breath. I've never been so dependent on another's willingness to give and to give without question. Donors are the finest example of humanity in it's purest form.
February 1st of this year is my "first" birthday. It's the date of my re-birth. The date of my stem cell transplant. Things haven't happened for me in a textbook way or according to plan. But I'm still here and my healing journey hasn't ended. I am ready to become an advocate, to build awareness and to share my story. At the beginning of this journey I wasn't ready to talk, I wasn't ready to give this dis-ease power, I didn't want others to look at me in a different way. I was vulnerable. I was broken. But now I've come to realize that the sharing of my story is where my power shines and my ability to influence change begins.
For the month of February I am turning to my family, my friends and my community for help. My goal is to not only fundraise but to encourage as many people possible to take the plunge and become a blood donor. My fundraising goal is set high, aiming to raise $8,000 for Canadian Blood Services.
Blood products are a critical component to our medical care, not just cancer treatment. Blood products are relied on for major surgeries, medical procedures and managing many diseases and disorders. Canadian Blood Services is in need for blood donations all year round. It's very likely you or someone close to you has relied on the selfless act of blood, platelet or plasma donors. Allow this to be an opportunity to give back.
Money raised for Canadian Blood Services is used to connect patients with lifesaving products and services, to recruit the next generation of blood donors, build a diverse stem cell registry, strengthen organ and tissue donation and transplantation system and drive research in transfusion and transplantation medicine.
I would love for you to share my story and this initiative with your friends, family, social media networks, workplaces and beyond to expand the reach and impact of this initiative. To share the video of my journey please use the following link https://youtu.be/7zYABi4gFC4
With all my love,
Miranda
View More